Syd Barrett
---
Crazy Diamond 26th April 1993

"Opel" (Take 9) (Barrett)
---
On a distant shore, miles from land
Stands the ebony totem in ebony sand
A dream in a mist of gray
On a far distant shore.

The pebble that stood alone
And driftwood lies half buried
Warm shallow waters sweep shells
So the cockles shine.

A bare winding carcass, stark
Shimmers as flies scoop up meat
An empty way
Dry tears.

Crisp flax squeaks tall reeds
Make a circle of grey in a summer way
Around man
Stood on ground.

I'm trying.

I'm trying to find you
To find you.

I'm living
I'm giving to find you
To find you.

I'm living
I'm living
I'm trying
I'm giving.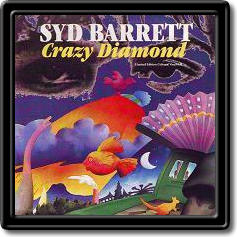 This box set was a repackaging of The Madcap Laughs, Barrett, and Opel with various bonus tracks included at the end of each disc. All these bonus tracks were just different takes on previously released material. Nothing really new, but some songs had slightly different lyrics.

This website powered by www.lucknowwebs.com